Although Gulliver's Dream by Arsen Savadov is his first exhibition at the HG Contemporary, this leading Ukrainian artist is no novice to the New York art scene. As a young Soviet painter in 1991, he was on the ARTnews list "Who are the artists to watch," and his 1992 exhibition at the New York E-N. Berman Gallery was reviewed favorably by Art in America (January, 1993). Regularly exhibiting in the city's various venues since, the artist splits his time between Kyiv and New York.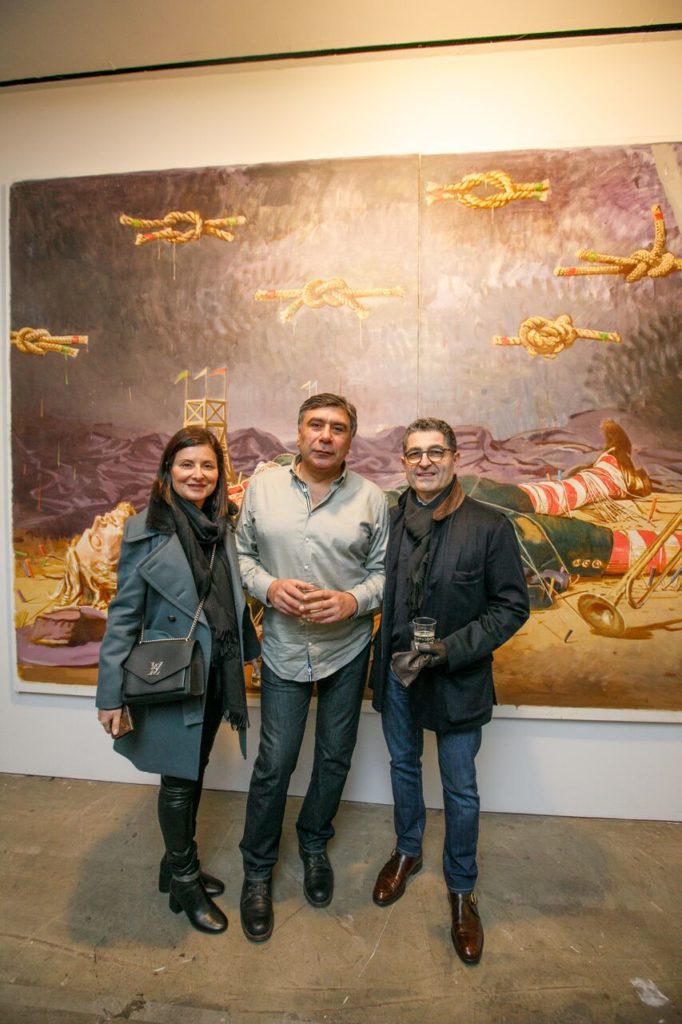 A product of the late Soviet epoch of perestroika, Savadov almost singlehandedly began the contemporary art of the new Ukrainian state, engendering a local version of postmodernism built on the ruins of the Soviet Union out of the disintegrating method of Socialist Realism, a rigorous school of academic painting, and the carnival of communism's ideological collapse.


Thirty years later, Savadov contemplates with his project Gulliver's Dream the consequences of his early foray into the reality of representation. While some contemporary thinkers are questioning if postmodernism is to blame for the 'post-truth era', Savadov reexamines the postmodernist tool of appropriation. If earlier it had been a method of capturing and reformatting objects and concepts by the artist, now such an approach only evokes ennui. Instead, Savadov's play with borrowed material aims at the creation of a zone of relaxation and delight. "I do not want to be ironic anymore and there is nothing revolutionary in replication and artifice for me today, I simply swim in the ocean of images important for me personally and as an artist," claims Savadov. Therefore, the metamodern sensitivity which places engagement and storytelling above pastiche and irony is crucial to Gulliver's Dream.


The thigh of Venus crowned with Napoleon's bicorne hat, Mary Magdalene's hand resting on Damien Hirst's notorious skull smeared in paint, St. Sebastian pierced by darts and colored pencils—all these figments of the artist's imagination are grounded in his knowledge of art history as well as his desire to imagine the Old Masters transferred into a contemporary dimension. Additionally, the fragments draw on his 2017 trip to the National Art Gallery in London, taken at the time of his exhibition at the Saatchi Gallery. The exhibit's main painting depicts Gulliver sleeping on the shore of Lilliput, chained by ropes with the help of color pencils. The baroque curtain on the left, opening the scene for our observation, further accentuates the motifs of dream and theater. According to Savadov, all the exhibit's other paintings are a representation of Gulliver's dreams. Even though the artist does not directly intend his project as a commentary upon Jonathan Swift's 1726 novel, one may infer a connection between the 18thcentury travelogue ridiculing Enlightenment modernity, and a contemporary reassessment of modern society. For someone who experienced firsthand both the failure of communist utopia and the rapid advent of global capitalism, giving prevalence to dreams over reason seems only natural.


Savadov believes the old oil on canvas medium to be a part of the collective unconsciousness, a mirage of beauty but with a functional twist. For the artist, oil painting appears as a meta- medium capable of making images and ideas freely float between painting, cinema and sculpture. A versatile artist during the course of his career, Savadov has utilized techniques of installation, performance, and photography. Among his pas projects is Donbas-Chocolate (1997), which gained worldwide critical acclaim and attention, including in the recent MOMA publication Art and Theory of Post-1989 Central and Eastern Europe (2018). Gulliver's Dream, however, consists solely of paintings: lavish, exuberant, and indicative of the artist's rigorous training. Savadov, coming from a family of artists and receiving the best academic painting education in his country, is not concerned at the moment with the formal aspects of the painterly medium. "Since I was 18, I knew already that to paint well did not mean to be an artist," tells Savadov. Oil painting is one of the many pathways in his search for a new poetics. Beauty and enjoyment are the unheralded results of the imaginary voyage undertaken.
Olena Martynyuk, Ph.D.

Arsen Savadov (born 1962) as a young artist became a Soviet sensation after his paintingCleopatra's Sorrow, co-authored with Juri Senchenko caused an uproar at the 1987 Youth Exhibition in Moscow. He was an active participant of the prominent Paris Commune artistic movement (Kyiv, Ukraine) during the collapse of Soviet Union and early years of the Ukrainian independence. He has been exhibited widely in Europe and USA, including the Biennale diVenezia (Venice, Italy), Saatchi Gallery (London, UK), Center Pompidou (Paris, France), Kunsthalle Düsseldorf (Germany), and Mystetsky Arsenal (Kyiv, Ukraine). Savadov lives and works in Kyiv and New York, having worked on Gulliver's Dream partially from his Brooklyn studio during 2017. In New York he has exhibited his work at the Whitebox gallery (2008 and 2016), Daneyal Mahmood Gallery (2007), Kashya Hildebrand Gallery (2004), Chelsea Art Museum (2008), and the E-N. Berman Gallery (1992, together with Juri Senchenko).
Mila Arts Consulting represents Arsen Savadov in the USA.