This year Art Basel Hong Kong has been canceled because of the coronavirus pandemic. However, the organizers of the Art Fair launched Online Viewing Rooms where 235 galleries presented more than 2,000 art works in price range from $750 to $3,000,000.[1] There was a VIP Preview for important collectors on March 18th and Public Days thereafter until March 25th, like it would have been if the Art Fair would have happened live. However, there were something new – the prices. Such transparency had never seen before.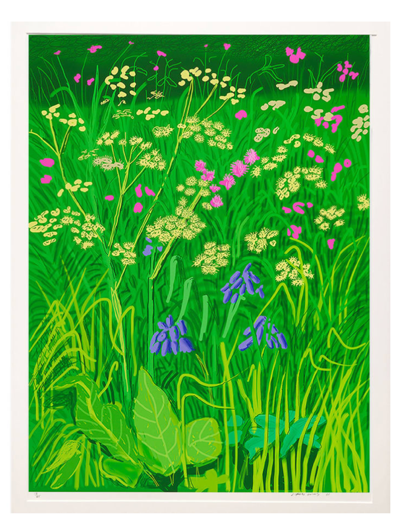 On March 19, I read the message from David Hockney: 'Do remember they can't cancel the spring' which he sent with the image of daffodils flowers to the Art Newspaper. For me, it sounded like a hopeful and inspirational response to our new reality. I couldn't miss seeing Hockney's series of  IPad drawings The Arrival of Spring in Woldgate, East Yorkshire in 2011 (twenty eleven) at Annely Juda Fine Art Viewing Room. 
It is incredible how Hockney executed classic plein air subject matter by digital technology and gave it a new representation. I liked the hues of juicy green color, pattern of lines which created the trees, grass and flowers on the fields, simplicity of the composition and at the same time a firm hand. These works were printed on paper in editions of 25 and the gallery's asking price for each was $55,000.  This price I would consider fair and reasonable for the David Hockney market, taking to consideration his auction records during 2018 -2019, when his works from this series were sold between $54,000 to $93,000.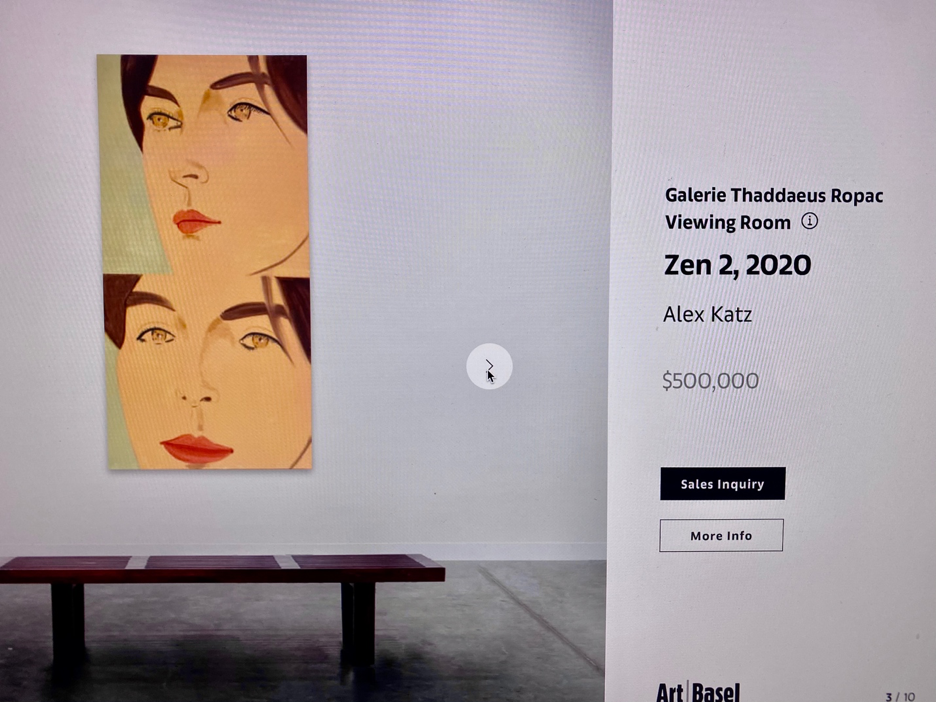 Another gallery which I wanted to see was Galerie Thaddaeus Ropac's. Because this gallery already participated in an online fair in the past.  It was in 2012 at the VIP online art fair. At that time, Mr. Ropac said: "They get the catalogue from Sotheby's and bid without ever seeing the work in person, and then they're not happy with the piece because the color isn't right or something. I don't want to encourage these sales because I want to encourage the physical experience." [2] So, it looks like since that time, he changed his mind and presented for online sales " blue chip" art by Anselm Kiefer, Georg Baselitz, Gilbert & George, Adrian Ghenie, Antony Gormley, Alex Katz, Tony Cragg and Elizabeth Peyton. At their online room, the gallery invited you to "visit Galerie Thaddaeus Ropac's own viewing roomon our website, where you can see videos of each of the artworks presented at Art Basel, and explore further works that will be available exclusively there." [3] These videos were badly executed in a small square, not even for 1/6 of the screen.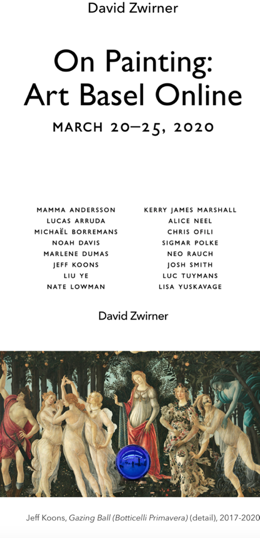 David Zwirner Gallery viewing room program On Painting: Art Basel Online had also connection to and extension at the gallery website. There you could see very good quality images and descriptions of the art works and their creation process by Jeff Koons, Neo Rauch, Marlene Dumas, Alice Neel, Noah Davis and others.[4] Definitely, this is owing to their talented head of their IT department, Elena Soboleva, who drives the gallery ahead of the competitors at online presence and sales.
According to the organizers, there were 250,000 visitors for Art Basel Honk Kong's digital-only edition. Taking into consideration Covid-19 challenges, the art fair worked out.
---
[1] Art Basel. Accessed March 20, 2020. https://www.artbasel.com/viewing-rooms
[2] Observer https://observer.com/2012/01/notorious-vip-after-a-stumble-an-online-art-fair-embraces-its-tech-side/
[3] Art Basel. Accessed March 20, 2020 https://www.artbasel.com/events/detail/11113/Galerie-Thaddaeus-Ropac-Viewing-Room
[4] Art Basel. Accessed March 20, 2020 https://www.davidzwirner.com/viewing-room/on-painting-art-basel-online